MARYLAND WATERFOWL HUNTING, WHITETAIL DEER HUNTING AND TURKEY HUNTING ON THE EASTERN SHORE OF MARYLAND
WELCOME TO WINTER FARMS HUNTING
Maryland Hunting Guide, David Price, offers a variety of fun and exciting Maryland Waterfowl Hunts that include Canada Goose Hunting and Duck Hunting which is a favorite of the Maryland Chesapeake Bay area hunters. Winter Farms Hunting has been providing waterfowl hunts, whitetail deer hunts, sika deer hunts and turkey hunts in Maryland for over three generations. Our Family business of hunting and guide services has been an enjoyable experience and we have a commitment to the outdoors and nature. Our waterfowl and deer hunting guides are fully licensed in Maryland and active members of Ducks Unlimited and the NRA and will provide you with a safe memorable hunt on Maryland's Eastern Shore.
If you are ready for a great time and want to bag your limit then book your Maryland Waterfowl Hunting or Maryland Deer Hunting trip with Winter Farms Hunting Outfitters and enjoy the ultimate hunting experience in Maryland with guide and outfitter, David Price.
Call us at 410-708-7133 or Click Here to book your hunt on the Eastern Shore of Maryland today!
WE OFFER HUNTS IN MARYLAND FOR THE FOLLOWING:
Canada Geese
Snow Geese
Puddle Ducks
Diving Ducks
Whitetail Deer
Sika Deer
Spring Turkey
HUNTING ON THE FAMOUS EASTERN SHORE OF MARYLAND
MARYLAND CANADA GOOSE HUNTING
Winter Farms Hunting is a family run hunting service and our guides have over 20 year experience in hunting Canada geese. We offer Canada Goose hunting in Chestertown and Easton, Maryland among many other nearby counties. We are a full service Maryland waterfowl outfitter offering Canada goose hunting, diving duck and puddle duck hunting.
The Eastern Shore of Maryland including Kent, Queen Anne's and Dorchester counties provide a hunting experience not found in most regions. Hedgerow blinds, field pits, water blinds, decoys, boats, experienced guides, trained retrievers, acres of open fields, beautiful creeks and river sites. What more could a hunter and migrating waterfowl ask for? In addition to our 8,000 acres of hunting lands, we leave over $12,000 worth of standing corn on over 150 acres which provides excellent hunting opportunities for Canada geese.
Click Here to Book Your Maryland Canada Goose Hunt!!!
MARYLAND DUCK HUNTING
Most avid duck hunters understand that the Chesapeake Bay area provides some of the best waterfowl hunting in the world. The numbers of Mallards and Canvasbacks taken from lands around the Upper Chesapeake last year is staggering. Impressive numbers of other duck species harvested during the season, including Mallards, Wood Ducks, Pintail, Teal, Black Ducks, Bluebills, Canvasback and Redheads. Much of the action is centered on the Eastern Shore on the Chester River and it's tributaries.
We hunt from blinds we built that are very well constructed and range from 12 feet to 20 feet long and 4 to 5 feet wide and have heaters to keep you comfortable on cold weather days. For cold whether days we use a heater in the blind. Winter Farms licensed Maryland guides have over 20 years of hunting experience and will provide you memorable duck hunt on the Eastern Shore ..
Click Here to Book Your Maryland Duck Hunt!!!
MARYLAND WHITETAIL AND SIKA DEER HUNTING
Winter Farms Hunting is a Whitetail and Sika deer hunting guide service on the Maryland Eastern Shore. Our farms are located in Dorchester and Kent County, Maryland. Some of the larger deer we shoot come from these two Maryland counties. We offer bow hunting, muzzleloader, shotgun, and rifle hunting, whether you are looking for trophy bucks or just looking to put food on table we offer the general opportunity to harvest a deer of your choice.
The Sika deer were imported from Japan many years ago and now we have large numbers in the Dorchester area. They are a small elk and the finest tasting deer meat in the deer family. The bucks will get as large as six points and stand about two or three foot tall. Sika Deer tend to move very early and very late in the day while Whitetail bucks seem to move between 10:00 am to 2:00 pm.
Click Here to Book Your Maryland Deer Hunt!!!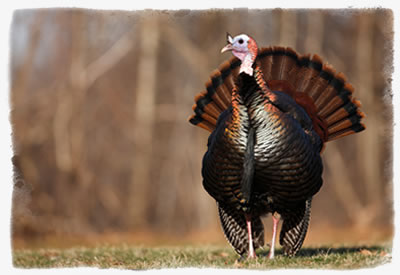 MARYLAND SPRING TURKEY HUNTING
Winter Farms Hunting offers guided spring turkey hunts on Maryland's Eastern Shore. Our Maryland Turkey hunts are on over 8000 privately owned acres to ensure quality turkey hunting action all through the season. We enjoy a high success rate during our turkey hunting season and are careful not to over pressure our birds. The Maryland turkey season typically starts the third Saturday of April running until mid May. Let our experienced Maryland Turkey guides take you on the hunt of a lifetime.
Click Here to Book Your Maryland Turkey Hunt!!!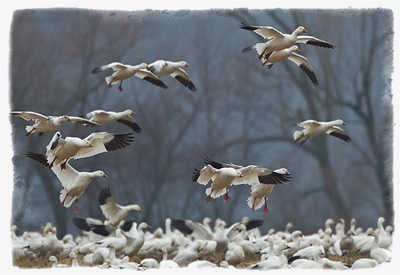 MARYLAND SNOW GOOSE HUNTING
Centrally located between the Tidal Marshes of Southern New Jersey and the bounty of corn fields of Maryland's Eastern Shore, Delaware winters approximately 500,000 snow geese annually .Delaware is home to two major snow geese roosts in the 25,000 acre Bombay Hook National Wildlife Refuge and the 9,000 acre Prime Hook National Wildlife Refuge.
Click Here to Book Your Maryland Snow Goose Hunt!!!