MARYLAND DUCK HUNTING – WATERFOWL HUNTING ON THE EASTERN SHORE WITH WINTER FARMS HUNTING
MARYLAND DUCK HUNTING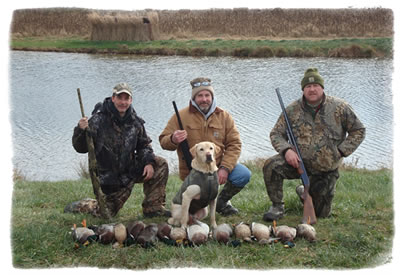 Most avid duck hunters understand that the Chesapeake Bay area provides some of the best waterfowl hunting in the world. The numbers of mallards and canvasbacks taken from lands around the upper Chesapeake last year is staggering. Also impressive are the numbers of other duck species harvested during the season, including woodducks, pintails, and black ducks. Much of the action is centered on the Eastern Shore, near places like Chestertown, Maryland.
Why is the Chesapeake Bay area so conducive to duck hunting? If you were to see the area from a plane or helicopter, you'd begin to understand. The region is crossed by numerous streams and rivers, and it's peppered with lakes, ponds, and marshes. Another key fact is that this area is located on the Atlantic Flyway, and many waterfowl spend the fall and winter months feeding on wild plants and cultivated crops.
In addition to plentiful food sources, ducks find something else they require: cover. Along the many waterways on the Eastern Shore are woods, bushes, tall grasses, hidden marshes, and secluded coves. And while all these hiding places are great for the ducks, it can prove quite challenging to duck hunters. For a successful hunting trip, it's best to hire a professional guide that is familiar with the area.
Winter Farms Maryland duck hunting on the Eastern Shore consists of puddle ducks, mallards, woodies, pintail, teal, and black ducks of which all can be hunted on various Maryland lakes, ponds, rivers, and creeks.
The Chester River and it's tributaries is one of the prime Maryland Eastern Shore duck hunting areas. We hunt the Chesapeake Bay, Choptank River and the Chester river for many duck species including divers as well as geese. The best time for hunting ducks in Maryland is November through January.
We hunt from blinds we built that are very well constructed. They range from 12 feet to 20 feet long and 4 to 5 feet wide. For cold whether days we use a heater in the blind. Our guides will escort you to our blinds.
We use trained retrievers including Chesapeake Bay Retrievers and Labradors which are great hunting dogs. You are welcome to bring your own hunting dog but for your safety and the of all hunters all dogs must be steady and be controlled 100% of the time while on the hunt.
Your hunting guide has over 20 years experience in calls and a few of our guides are champion goose and duck callers. We use Avery and GHG brand decoys which are the best on the market. We use big rigs of decoys from 50 to 150 decoys.
If you are looking for fast shooting the diver is the one best. The diver duck is some great hunting because they are so fast like the canvasback, bluebill and redheads. The best time to hunt them mid December to end of January.
Some hunting gear you will want to bring on your Maryland Duck hunting trips:
Warm clothing
Bring boots and gloves
Hunting license
Shotgun – Auto is best in 20 gauge or 12 gauge
Shells – Steel Shot only in BB, 2, 3 or 4 shot preferred
Camera
Coffee
Snacks
Hunting Season Dates & Limits for Duck Hunting in Maryland:
Bag Limit is 6 Ducks Per Hunter
October 15 through October 22
November 14 through November 25
December 13 through January 28