HUNTING GUIDE, DAVID PRICE OFFERS WATERFOWL, SIKA DEER, WHITETAIL DEER AND TURKEY HUNTS IN MARYLAND
MARYLAND HUNTING GUIDE, DAVID PRICE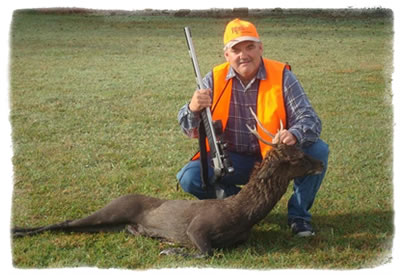 My father was one of the first hunting guides on the eastern shore of Maryland. He taught me about hunting and how to guide which I have been doing for over 30 years now. Hunting has remained a tradition through my children and grandchildren and we encourage and maintain environmentally friendly property.
The Winter Farms goose hunting operation remains located around Chestertown, ( Kent County) Easton (Talbot County), and Cambridge (Dorchester County), Maryland. These are premier areas for Canada Goose hunting and also are known to hold a large concentration of Snow Geese that provide great hunting opportunities as well.
Our Maryland hunting sites include fields and ponds for resting geese, water blinds on the Chester River, and it's tributaries are available. All blinds and pits are comfortable and made to accommodate up to 5 hunters.
Winter Farms duck hunting is offered in the same areas and includes shooting opportunities for Puddle Ducks, including Mallards, Black Ducks, Pintails, Widgeon and Teal as well as Diving Ducks including Blue Bills, Canvasbacks, and Red Heads and Bufflehead. The best time to hunt divers is mid December through the end of January. Puddle ducks are generally here from November thru January.
Our deer hunting properties are located in Dorchester County. Whitetail and Sika deer are in the area. Sika are an imported deer that came from Japan and are now native to the area. They are considered a miniature Elk and are very good to eat.
Chestertown, Maryland has been named Goose Hunting Capital of the United States and Easton, Maryland hosts the Annual Waterfowl Festival. All areas have lodging and restaurants including the Holiday Inn Express, Comfort Inn, Tidewater Inn, and Hyatt.  The Eastern Shore of Maryland offers many great steak and seafood restaurants as well.
Please call David Price with any questions you have about Winter Farms Hunting at 410-708-7133 or use our Online Information Request Form and we will reach out to assist you with any questions you have.
David Price
Winter Farms Hunting