MARYLAND CANADA GOOSE HUNTING – WATERFOWL HUNTING IN MD WITH WINTER FARMS HUNTING
MARYLAND CANADA GOOSE HUNTING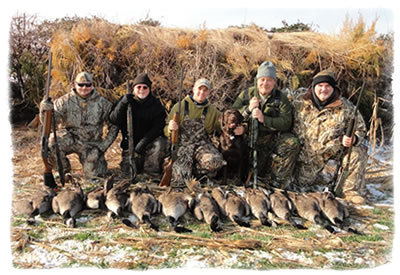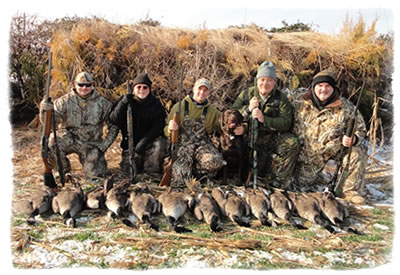 If you're a hunter of waterfowl, or if you'd like to become one, you might already know that Maryland's Eastern shore is the Canada Goose hunting nirvana. This area of the Atlantic Flyway is fairly narrow, which means the birds are more concentrated. One of the best spots to hunt is in and around Chestertown, Maryland on the Eastern Shore.
This area of the Chesapeake Bay is loaded with honkers. It boasts the biggest population of migratory Canada Geese in the United States, along with being part-time home to hundreds of thousands of snow geese. With such an abundance of birds, you'd think it would be easy to bag your limit, right? Well, it's not.
Canada Geese are cagey critters that have survived for eons by using their wits. Their behavior has adapted to being hunted by humans, which makes them extremely wary. The slightest thing can make them suspicious, and even when they've decided to land, they can change their minds at the last moment when something doesn't seem quite right.
The Atlantic Flyway has an extremely good population of snow geese. It is reported that over 300,000 snow geese come to the Eastern Shore of Maryland every year. The Chesapeake Bay has the largest wintering concentration of Canada Geese and Ducks in North America.
We offer well constructed pits, hedge row and water blinds. We only take a limited amount of hunters a day to give you the best hunt possible and we only shoot decoying birds. All the decoys are Greenhead Gear and Bigfoot brands with full body and shell to give you the best and realistic decoys on the market. When hunting over the water we use boats that are over 16 feet long. We also use a flat bottom Jon boat that is over 20 feet long.
If you are looking for a quality Maryland hunting guide Winter Farms Hunting can make it happen. On a typical hunt we will meet you in the morning at the hotel were you are staying and go over the plans for the days hunt.  At the end of a hunt you can have your birds breasted or picked. We will also refrigerate and store your birds until the end of the hunt.
Some hunting gear you will want to bring on your Maryland Canada Goose hunting trips:
Warm clothing
Bring boots and gloves
Hunting license
Shotgun – Auto is best in 20 gauge or 12 gauge
Shells – Steel Shot only in BB, 2, 3 or 4 shot preferred
Camera
Coffee
Snacks
Hunting Season Dates & Limits for Canada Goose Hunting in Maryland:
Bag Limit is 2 Geese Per Hunter
November 19 through November 25
December 16 through February 4